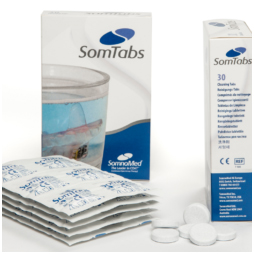 SomTabs is exclusively manufactured for the gentle and thorough cleaning of SomnoMed® oral devices like ApneaGuard. It Kills 99% of germs and odor-causing bacteria while keeping your device clean. 
SomTabs are a gentle and thorough cleaning method for all SomnoMed devices
Exclusively manufactured for SomnoMed and specifically designed for use with SomnoMed devices; helps to keep device in pristine working condition
The first and only oral device cleaning tablet that does not contain Sodium Perborate which is linked with toxicity to reproduction [source].
Kills 99% of germs and odor-causing bacteria while keeping your device clean.
Suitable for dentures, mouth guards, and other oral appliance products.
Not intended for ingestion, if swallowed we recommend seeking medical advice. Not recommended for users with known hypersensitivity to persulfates.
Wondering how to clean your SomnoDent device? Click here to view SomTabs cleaning instructions. Important Reminders: 
Keep your device out of direct sunlight.
Never use toothpaste on the device as it contains abrasives and may damage your SomnoDent.
Never use hot or boiling water to clean your SomnoDent.
Always brush your teeth thoroughly prior to inserting your device for the evening.
How to clean: Every morning after removing your device rinse it under running water, place in your SomnoMed container with water and add a SomTab. After cleaning the device, store it in clean water
in container.
Order Your SomTabs
Keep your SomnoDent sparkling clean AND experience the ease and speed of buying SomTabs on Amazon!* Why buy on Amazon?
Free shipping on purchases of $25.00+
Prime members are eligible for FREE shipping
Trusted customer service and returns
Shipping to anywhere in the US, including PO Boxes
Cost-savings! Buy more and save on SomTabs for your device**.
3 boxes – save 10%
6 boxes – save 20%
12 boxes – save 25%